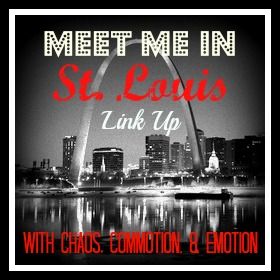 Welcome to Meet Me In St. Louis...a blog hop where you can meet new bloggers and link up with them, all while learning something new about each of the co-hosts and participants!
Why Meet Me In St. Louis? Well, being from St. Louis, Missouri, centrally located in the Midwest, I thought it would be a perfect spot to meet up and get to know other bloggers all around the globe!
I'M LOOKING FOR CO-HOSTS! IF YOU ARE INTERESTED IN PARTICIPATING, PLEASE LET ME KNOW ASAP!!
What's in it for me if I'm not a co-host?
Thats a great question! Prior to each link up, I will post the "Meet Me In St. Louis" questions for those who are interested in linking up. This way, when you have a new visitor to your blog, they can get to know you a little better right off the bat! All I ask is that you participate in answering the questions, linking up to your "Meet Me In St. Louis" blog post, and add my button to your post.
**The Link Up will go live the 1st Tuesday of Every Month.**
**There will be 3-5 questions answered by the hosts each month. For others participating in the link up, you will need to link up the post where you answered the questions. (I can email you the questions in advance if you would like more time to prepare your post)**
**I'm shooting for the first link up to go live on January 1st**
What does it cost me to participate?
ABSOLUTELY NOTHING for co-hosts and participants who link up.


**I ask that you follow each of your hosts**


**Click around and take a look at some of the other participants blogs and like them too. Make sure you leave a comment on their blog letting them know you are a new follower and put a link in your comment to your blog so they know who to follow back.**


**Promote this link up via twitter, facebook, placing the button on your side bar, etc. - whatever you typically do!**


**HAVE FUN! Make some new friends, get to know some new people.**
Do you have some questions that you would like to see answered by some other fellow bloggers? Send them to me here! If your question is chosen, you will be that months featured HOST automatically!
Can't wait to link up with everyone and read all kinds of fun facts about all my new and old friends!