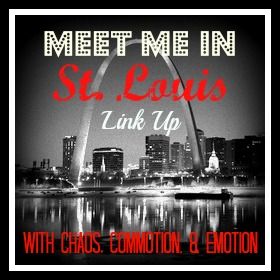 Welcome to Meet Me In St. Louis...a blog hop where you can meet new bloggers and link up with them, all while learning something new about each of the co-hosts and participants!
Why Meet Me In St. Louis? Well, being from St. Louis, Missouri, centrally located in the Midwest, I thought it would be a perfect spot to meet up and get to know other bloggers all around the globe!
Help spread the word about this link up! Tweet about it!!
This month's questions:
Did you keep your new year's resolutions during 2012, and will you make more for 2013?
Every year I make the same resolution to lose weight. This year it was more important than ever since I still had some baby weight hanging around. Did I accomplish it? YES! However, I'd be lying if I said that I stuck to all that I said I was. I contribute my weight loss to chasing around a very active little boy and rarely having time to kick a few bud lights back at the momentum I once could. (There are lots of calories in beer - the less I have, the less weight I put on.)
What would you like to have in 2013 that you lacked in 2012?
A vacation. Which is kind of cheating because it will be a reality in March. We will be attending a close friends wedding in Rivera Maya, Mexico! I have to admit that I will definitely miss my little guy while we are gone. But excited nonetheless.
I would also like to focus more on my blog. I blogged a long time ago but got out of the habit due to a hectic work schedule and a baby. Mainly work though...those 2 things still exist in my life, but I find blogging an outlet and plan to continue in full swing this year!
Did you do anything in 2012 that you had not done before?
Raised a toddler. This is a feat in itself - and give me a whole new respect for those of you stay at home moms out there. I'm a working mother, but being with my child all day (as I've been this past week ) is sometimes harder work than my IT job which is at times quite stressful!! We are both learning as we go; he's learning that I mean business when I use my mom voice. I'm learning that he knows what "NO" means but just doesn't care. ;-) Its a process...
What was your biggest achievement in 2012?
Changing jobs and going back to a full time employment position. For the past year prior to 2012 I had been a contract employee for a large financial institution. I made great $$, but the stability just wasn't there. Don't get me wrong, I never had breaks between contracts but there is always that loop hole that a client can cease your contract at any time due to whatever they want. With budgets being what they are at large company's, that doesn't make you feel very stable. And I've been in a first hand position where I've seen and had to let go another contractor just because we were over budget on a project. SCARY! I moved back into the full time employment working for a telecommunications company - with benefits, retirement, the whole shebang! I'm very excited!
Do you have any big plans for 2013?
Not yet any way...we have some weddings, some friends having babies, but nothing directly involving my family. I guess you could say that our vacation to Mexico for our friends wedding is big plans! I'd like to have 2 vacations this year, but I just don't know if that can happen with hubbys vacation schedule just yet!
Did you keep your new year's resolutions during 2012, and will you make more for 2013?
I completely forget my new year's resolution for 2012, I'm not entirely sure I had any last year, but my resolutions for 2013 will probably be to take my blog to the next level, get more personal with my readers and followers, try to get more involved with those who don't have blog that read my blog.
And I would love to get way more involved in the blogging community, like guest posts, co-host linky parties, spotlight other blogs, and much more!
What would you like to have in 2013 that you lacked in 2012?
To get way more involved with all the bloggers, and my readers.
To really take blogging up a level, and really make my posts shine and come out of the blog, I'm going to be posting about crafts a lot more, things in my life, and blogging tips and tutorials.
I also lacked thanking my followers, like with giveaways, so I would like to do giveaway much more often.
Did you do anything in 2012 that you had not done before?
Well, I never had a blog that actually stayed with me about a year.
But other than that, I made money from my blog, sold ads, took a ton more pictures than ever before.
I made a ton of crafts than, ever before for this blog and me.
I created many more friendships over the internet with bloggers, many have inspired me and helped my blog shine and grow.
I got a Schnoodle, for the first time, and named her Pepper. Pepper is a spunky 2 yr old dog, who is crazy enough to run through the house full speed, for no reason at all (when this happens you have to duck behind cover.)
But other than that, she's a super sweet dog, around 30 lbs, super cute. I wish I could tell you about all the things she does, but that will have to wait for another time.
What was your biggest achievement in 2012?
Probably to me, having a blog with 1000+ followers, and having around 31,000+ total page views, it might not seem like much to some of you out there, but it means the world to me, and I am so totally grateful for it.
I love knowing that I can write about anything and anytime on my blog, because it's mine.
I had the feeling that I could only write about a couple things and they had to be spaced out perfectly among the week, but ya know, it really doesn't matter, because it's YOUR blog, it's time to take control of it.
Do you have any big plans for 2013?
To make many more crafts, blog a ton more, and to take my designing to another level!
I plan to advertise my shop a ton more, and add so many new products!!
But I'll let you know if there's something I'm planning on doing in a post on the ol` blog!
Rules:
**I ask that you follow each of your hosts**


**Click around and take a look at some of the other participants blogs and like them too. Make sure you leave a comment on their blog letting them know you are a new follower and put a link in your comment to your blog so they know who to follow back.**


**Promote this link up via twitter, facebook, placing the button on your side bar, etc. - whatever you typically do!**


**HAVE FUN! Make some new friends, get to know some new people.**
Do you have some questions that you would like to see answered by some other fellow bloggers? Send them to me here! If your question is chosen, you will be that months featured HOST automatically!



I'M LOOKING FOR CO-HOSTS! IF YOU ARE INTERESTED IN PARTICIPATING, PLEASE LET ME KNOW ASAP!!
What's in it for me if I'm not a co-host?
Thats a great question! Prior to each link up, I will post the "Meet Me In St. Louis" questions for those who are interested in linking up. This way, when you have a new visitor to your blog, they can get to know you a little better right off the bat! All I ask is that you participate in answering the questions, linking up to your "Meet Me In St. Louis" blog post, and add my button to your post.
**The Link Up will go live the 1st Tuesday of Every Month.**
**There will be 3-5 questions answered by the hosts each month. For others participating in the link up, you will need to link up the post where you answered the questions. (I can email you the questions in advance if you would like more time to prepare your post)**
What does it cost me to participate?
ABSOLUTELY NOTHING for co-hosts and participants who link up.


Can't wait to link up with everyone and read all kinds of fun facts about all my new and old friends!